The Will Family Pages:
• Bayreuth, Bethel & Aurora – what we know so far
We are in the process of sorting out the duplicated baptismal documents that Uncle Clark secured in pre-Internet days. With so many of our ancestors named Johann, Leonhardt and Heinrich, it's easy to see how errors could creep in. The information as we understand it so far is here.
The Will Family:
Bayreuth, Bethel, Aurora and Beyond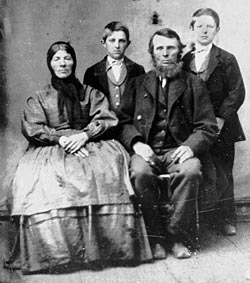 This may be the oldest photograph of the Will family in my collection. The adults are Christina and John Will, my great-great grandparents. The two boys are not positively identified, but are probably their two oldest sons, Alfred and John William.
Until recently, we had little reason to question the information we had from the pre-Internet research of Clark Moor Wier Will (1893-1982).
We believed that fourteen members of the Will Family had immigrated from Bavaria, and, though Clark's research, we could account for all of them. In fact, our current computer record contains more than 770 names of people descended from the original fourteen or connected through marriage.
Discovery of the manifest of the ship Emma by one of our kinswomen has changed our understanding dramatically. There were 32 people with the surname Will aboard the Emma. We're still trying to figure out how they were related to us, and where they ended up. We're hoping somebody -- maybe some of our long-lost kinfolk -- can help us!
The Fourteen: Muscatine County, Bethel
and Aurora
Let's start with what we know. What we thought we knew.
Three generations of the Will family, fourteen people in all, immigrated from Bavaria to the United States in 1839. Clark Will always said they found their way to the Pennsylvania Dutch communities of Bucks County, Pennsylvania, but if they did that, they did it quickly. The Emma landed on October 12, 1839; George Will was born in St. Louis in December, 1839, where the family was stranded by ice; and all of them were on a farm in Muscatine County, Iowa, according to the 1840 census. (Thanks to cousin Charlyn Mueller for that.)
The 1850 census shows all of them living in Bethel, Missouri, a communal society founded by charismatic preacher Wilhelm Keil. We don't know how the Wills found Wilhelm Keil. Perhaps they had kin or connections in the Rappite communities (Harmony, Economy, Phillipsburg) which were experiencing unrest at the time. Some members of those communities did join Keil at Bethel. However, it is known that Keil's missionary scouts reached Muscatine County, so perhaps the Wills were recruited in that manner. In any case, they joined Keil in Bethel and stayed, emigrating overland to Keil's new community, Aurora, Oregon, in 1863.
The first generation consisted of Johann 1762 (I use the dates of their births to distinguish between the Johanns) , a sister Margaret, and a brother, Wolfgang. There is no mention of Johann's wife. Johann was born in 1762 In Bavaria (Krugshof?), and died in Bethel, Missouri, in 1852.
The second generation included a Johann 1793, who was born June 3, 1793 in Bavaria, and who died in 1869 in Aurora. Johann's first wife was Susannah Dorothea Preuss; his second was Margaretha Elizabetha Friedlein. There is conflicting information about Susannah Dorothea: some records indicate that she died in 1829, but the 1850 census shows a Susannah Will living in Bethel with all of the children, while Johann lived elsewhere with his brothers. (I thank Mary Bardell for noticing that fact.) Johann was a stonemason.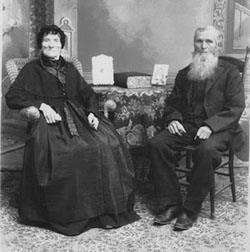 Christina Müller Will and John Will of Aurora, were my great-great-grandparents. The photo appears to be taken against the same backdrop as the one below, of their son John William and their grandchildren. John Will was born in Bavaria in 1818 and died in 1899, and Christina Will was born in 1823 in Bavaria and died in 1905, both at the home of their daughter, Otillia Will Wolfer, in Hubbard, Oregon.
The third generation of immigrants was comprised of the younger Johann's children John, also a stonemason, (pictured here in his old age with his wife, Christina Müller Will), Heinrich, Nicholaus, Leonard, Anna Susanna Dorothea, Urban, Catherina, Dorothea, and Anna Barbara. Their brother George was born in 1839 in St. Louis, Missouri. All of them remained close to the Bethel/Aurora communities all of their lives.
Copyright © 2013, Robin P. Will, robin@robinwill.com, Rev. September 2013,
URL: http://www.robinwill.com