• Mary Adeline Moor Wier Moore – the grandmother
By Robin Will, September 9, 2013
With lots and lots of research
by second-cousin Charlyn Hall Mueller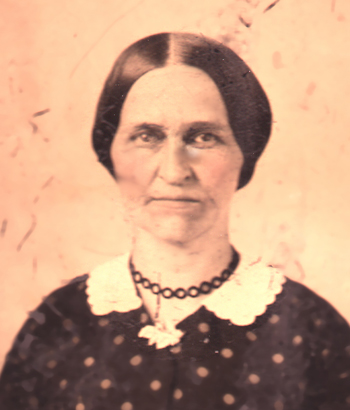 When I began studying my father's fragmented family, I initially overlooked Mary Adeline Moor.
Actually, I didn't overlook her completely. I was amused. My great-uncle Clark Moor Wier Will, the first of the Will family geneaologists, had been happy to discover that through the Moors, he was a second or third cousin to Calvin Coolidge. That obviously meant something to Clark, growing up as he did in Hubbard, Oregon, in a neo-Amish household where they didn't speak English at home until the first World War (when Clark was 24 years old). Whatever it meant to Clark, I found the latent snobbery amusing: a Coolidge connection meant nothing to me. I moved on.
Eventually, however, I was forced to deal with Mary Adeline. She played an enormous role in holding our family together, and it couldn't have been easy. Plus Mary Adeline showed considerable gumption in other ways: she traveled alone from New England to join her brother in Oregon, at a time when women seldom left hearth and home. It's not clear how she supported herself or her grandchildren, at a time when women's wealth was usualy derived from husbands or family. Considering all that, it's not clear why she lived where she lived – Gaston, Oregon, was a long way from Corvallis, where her bother Charles Moor still lived, and where she had buried Isaac Moore, her second husband. And – having finally outlived two husbands, a brother, her daughter and her granddaughter, it wasn't clear who was left to bury her.
That's a lot of unanswered questions, and as time goes by, Mary Adeline has become an obsession with me. Like many historical questions, it's a slow-motion obsession – I'm not frantically searching for answers. However, before I die, I intend to learn as much about this powerhouse of a woman as it is possible to know.
Here's what we have so far.
Mary Adeline Moor was born in New York on January 11, 1820. She was the daughter of John Moor and Mary Davis Moor. She married William Wallace Wier in Hampden County, Mass., April 13, 1846, and the couple had one daughter, May. It is unclear what became of William Wallace Wier – there is record neither of divorce nor of his death, although two separate distant cousins claim that he died on October 25, 1886 in New York.
The 1870 Census shows Mary Adeline living in Windham, Vermont, with May, but without William Wallace. Sometime thereafter she came to Oregon, probably to be near her brother, Charles Moor (who appears on the tax roll of Polk County as early as 1853).
Charles Moor showed up in the Oregon Country in the 1850s with education and [apparently] money, and was a leader in the community for years. From his obituary in The Oregonian, November 30, 1904: "Nov. 29 (Special) – Charles E. Moor, an Oregon pioneer, former member of the legislature from Benton County, Superintendant of the Blind School under Governor Moody, late Postmaster at Corvallis and ex County Judge of Polk County, died at his family home north of Corvallis this morning … Mr. Moor was born in New York in 1823, grew to manhood in Vermont, and at 21 came to Oregon and settled in Polk County. He had resided on the farm where he died since 1865. Survivors in the family are: Mrs.Lindeman, of Mountain View, Benton County, and Arthur Moor, of Alki, Wash." More information is available online: google "Charles Moor, Polk County" to read quite a bit about this pioneer.
Mary Adeline married Isaac Moore in Benton County, Oregon, on May 6, 1875. He died May 30, 1886.
Isaac Moore was the founder of the town of Orleans, Oregon, directly across the Willamette River from present-day Corvallis. Orleans disappeared in 1861 in the largest Willamette River flood in recorded history.

Moore staked his land claim in 1848. By 1851, he had marked off a waterfront section of the claim as a townsite for the city of Orleans; he was selling properties, and was running a ferry service to Marysville (now Corvallis) at the site of the Van Buren Street Bridge. By 1856, Orleans was a popular trading town.

After dark on December 1, 1861, floodwaters rose suddenly and wiped out most of the town of Orleans. No loss of life is documented, but livestock were swept away and farms were ruined. Corvallis, on higher ground, suffered relatively light damage. Orleans was never rebuilt.

Isaac's first wife was Susan Moore, who died April 10, 1870. On May 6, 1875, Isaac married Mary Adeline Moor Wier. Isaac died on May 30, 1886, and is buried in the Crystal Lake [Masonic] Cemetery. He was survived by his wife, and an older brother, Reuben Moore.

More information can be found in an Internet search for "Orleans, Oregon."
Mary Adeline was apparently living in Gaston by the time May Will's pregnancy came to term in the spring of 1893, but she was in Corvallis for the birth of the twins, Clark and Charles, on May 19, and May's death within hours thereafter. She named the babies after her brothers, Charles Moor, (above), and Clark Moor, a clergyman in New England, adding the name "Wier," which was May's maiden name.
Less than a year later, John William Will was dead, leaving his six children alone except for their brand-new stepmother, Melissa Kay Dickson Will, whom John had married on November 14, 1893. Charles Moor was appointed executor of John William Will's estate and guardian of the children. Melissa Kay Will accepted a settlement of property outside of probate, and dropped out of the picture. Probate records show that young Mary Adeline Will, Enoch Israel Will, and Christine Agnes Will all went with their grandmother, Mary Adeline Moore, to her home in Gaston, Oregon. Enoch was allegedly adopted by a family in Rickreall – from whom he ran away repeatedly, returning to his grandmother in Gaston. Christine Agnes (who took the name Miriam later in life) was adopted by a family named Moore, and we don't know if that is coincidence or not. Mary Adeline Will stayed with her grandmother.
The Census of 1900 places Mary Adeline Moore in South Tualatin Precinct, which would be Gaston, Oregon, living with Mary A. "Wills." The younger Mary Adeline died in Gaston in 1903, just short of her 17th birthday, and is buried at the IOOF Cemetery on Witham Hill in Corvallis, next to her mother, May.
Mary Adeline Moore lived until 1907. Her grave is also in the IOOF Cemetery at Witham Hill, and her gravestone says she died at age 87 years, 11 months and 13 days, which means she died on December 24, 1907. We found no mortuary board record of transporting her remains, so we assumed that she was alive when she traveled from Gaston to Corvallis, but we didn't know when that happened. We had never located a death certificate. We also couldn't find an obituary in Corvallis around the time of her death, which seemed unusual in a community where even new ditches and wandering cows were reported in in the Corvallis Gazette.
In early 2013, Charlyn Hall Mueller found a notation among Clark's papers that explained things, after a fashion: Grandpa says this about Mary A. Moor Wier Moore: "… and [she] died at Corvallis, Oregon on the 24th day of July 1907 at the age of 87 yrs. 6 mo. and 14 days. Tombstone notations wrong as body was moved by Enoch I. Will by special last request of M.A.M.W.M. made a few months before death.....see letters in my Genealogical files. Close study of facts and conditions convinces me that this is correct. CMWW"
We haven't yet found the letters from Clark's genealogical files, but with the correct date of death, finding an obituary was easy:
From the Corvallis Gazette, Friday, August 2, 1907
In the middle of page 1

The funeral of the late Mrs. M. A. Moore occurred from the Wilkins and Boyce undertaking parlors at 2 o'clock Wednesday afternoon, the services being conducted by the Rev. C. T. Hurd, of the United Evangelical church.

A number of friends and acquaintances were present in respect to the departed who had reached the venerable age of 87 years, 11 months and 13 days. The interment was in Crystal Lake cemetery.

Mrs. Moore died at her home next door to the Reading Room, about 2 o'clock Tuesday morning. She had sat up a part of the afternoon preceding her death. She was a kind and respected lady and was held in high esteem by those who knew her. In girlhood she was Miss Moore, a sister of the late Judge C. E. Moor, who was once postmaster of Corvallis, and in her second marriage deceased again assumed the name, her husband being Isaac Moore, at one time the ferryman in this city.

Deceased came to Corvallis only a few months ago from Gaston, to spend her remaining days among old time friends. Here, quietly and peacefully, she passed to her reward as a Christian, with faith, and fearless.
Disregarding the inevitable Moor/Moore confusion, the obituary raises as many questions as it answers. It is not the sort of document one might expect, given that both Mary Adeline's late brother and her late husband had been prominent in Corvallis. Furthermore, no survivors were listed, when a niece, Persis Jane Moor Lindeman, had been living with her husband on the Moor farm, "five miles north of Corvallis along the railroad," for several years according to Charles Moor's entry in Portrait and Biographical Record of the Willamette Valley, Oregon (available online: google Charles Moor, Polk County, Oregon). Isaac Moore's only kin, a brother named Reuben, died in 1890. If Moors or Lindemans had been involved in the funeral plans, they would probably have been mentioned. If any members of the Will Family had been involved, we'd bet that her late daughter and her surviving grandchildren would have been listed among the survivors. We conclude that the information for the obituary was given by people who didn't know Mary Adeline very well. We don't know why.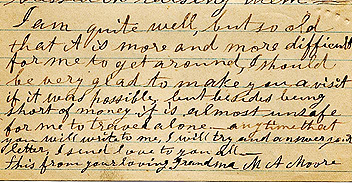 We wonder how this old woman got from Gaston to Corvallis in the twilight of her life. In a letter dated January 2, 1905, to the twins, Clark and Charles, she indicates: "… I am quite well, but it is more and more difficult for me to get around … it is almost unsafe for me to travel alone …" No doubt someone helped her move to Corvallis, but we don't know who it was.
The obituary states that Mary Adeline was buried at Crystal Lake, a Masonic cemetery south of Corvallis, no doubt either with or near Isaac Moore, her second husband (and his first wife, Susan). It is another sign that the Moors/Lindemans were not involved, since the entire Moor family were buried in the IOOF Cemetery on Witham Hill, just a few rows down from the Wills, including May and the younger Mary Adeline. (In fact, you can stand in front of Mary Adeline's current grave in the IOOF Cemetery, and look over your left shoulder at the Moor family plot.) Enoch Will, who was 18 at the time his grandmother died, was apparently not in town to convey her wishes, and there is no oral history about how the casket came to be moved, although there is certainly a grave, with headstone, and record of burial at the IOOF Cemetery 100 years later.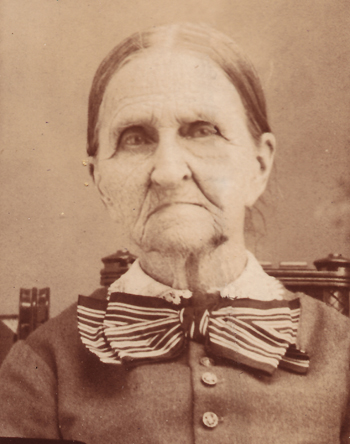 Finally, it's not clear how Mary Adeline was supported financially, and how her home in Gaston figures into the scenario. Why would an aging widow go to live in Gaston when she had friends and family in Corvallis? Did she have an income from the Moors? Was there wealth from the marriage to William Wallace Wier? Did she inherit money or property from Isaac Moore? Or did she manage to support herself and her grandchildren through other means that we know nothing about?
There are plenty of avenues still open for research. The first is to find a map of the South Tualatin Census Precinct for 1900; determine whether the tract lies in Washington or Yamhill County, or both, and get an approximate idea of where Mary Adeline's home in Gaston was located. It should be possible to find out if she owned property in Gaston, and/or who was paying her taxes, and, if she owned it, what became of the property upon her death.
It would be interesting to track down "… her home next door to the Reading Room," that is mentioned in the obituary. We don't know if Mary Adeline owned property in Corvallis at the time of her death, but she obviously had some sort of support network in Corvallis or there wouldn't have been a point in coming back. A look in a Corvallis city directory for a Christian Science Reading Room (is there any other kind of Reading Room?) might give us some insight into where it was, and give us a start on finding out what sort of home it was, and who owned it.
The next step would be to check probate records. If Isaac Moore provided for his wife in a will that was probated, that information will be available. Maybe it includes property in Gaston. It would have been unusual, but not out of the question, for Mary Adeline to have held property in her own name, and if that was the case, there might be other probate or tax records to follow up.
The final step is exactly what I'm doing here: making the information public, and seeing if anybody can help. If your name is Moor, or Moore, or Lindeman or if you have those names in your family tree; if you had family in Corvallis or Gaston around the turn of the last century; and if you know anything about the people and places I mention here, I would certainly like to hear from you to piece together a little more of the story of my great-great grandmother
Copyright © 2013, Robin P. Will, robin@robinwill.com, Rev. September 2013,
URL: http://www.robinwill.com